Join Amy Ward for a look at Oxford through the wide eyes of a Canadian who had never been to Oxford — or anywhere else in Europe for that matter!
In June, I had the pleasure of testing the In Parenthesis self-guided tour of Oxford.
I'm from a small town in Nova Scotia, Canada. I have been interested in the philosophy of the women of the Quartet for a few years, but until this summer, I had never had the opportunity to see the places where these women would have formed their friendships and ideas. I was overjoyed to finally set foot in England and get a feel for what things might have been like for the women as undergraduates by seeing the buildings, the layout of the town, and the natural environment of Oxford.
After staying in Chiswick for a few days (close to Iris Murdoch's childhood home), I set out to Oxford by train with my travelling buddy. My friend graciously offered to take photos of me at each location of the tour while we tested it out. We felt a bit mischievous (and prying) at times, staring at various homes that are quite obviously still occupied by residents. The tour takes a fair amount of time, especially if you take the time to look around at each location. We spent most of the day wandering around, but we took several breaks and a small detour to a bonus location I wanted to visit. (More on that at the end of this post.)
As a result of our antics, I here offer, for your viewing pleasure, a collection of photos that could be helpful for your own go at the tour or give you a sense of the tour without having to leave the comfort of your home.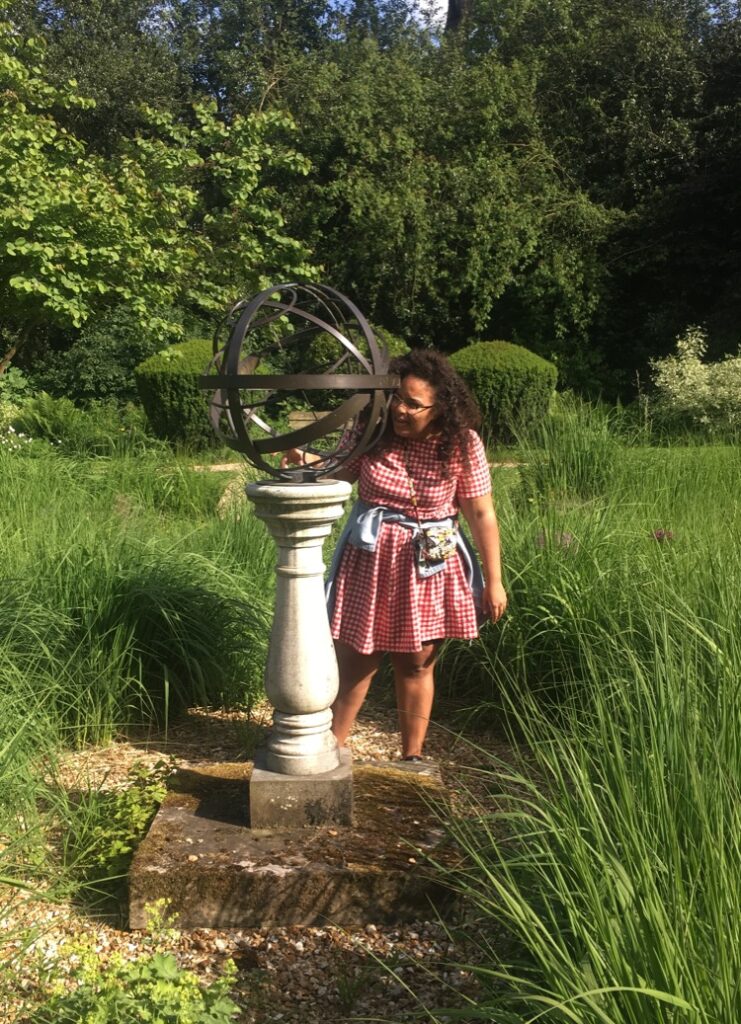 Many thanks to my photographer friend!
My first impressions of Oxford: busy, lots of tourists. We felt a bit lost around the main areas of town and it took us a while to find the first location on the tour. Given the large number of tourists, I would have expected to see more signs and labels for locations, especially in and around main university buildings. We eventually made our way through the crowds to the Bodleian library, where I asked a clerk how to correctly pronounce 'Bodleian' and where we discovered that you have to pay to see the inside of some university buildings.
We didn't pay, but instead tried to figure out where to begin our tour of the town, in between the Divinity School and the Sheldonian Theatre.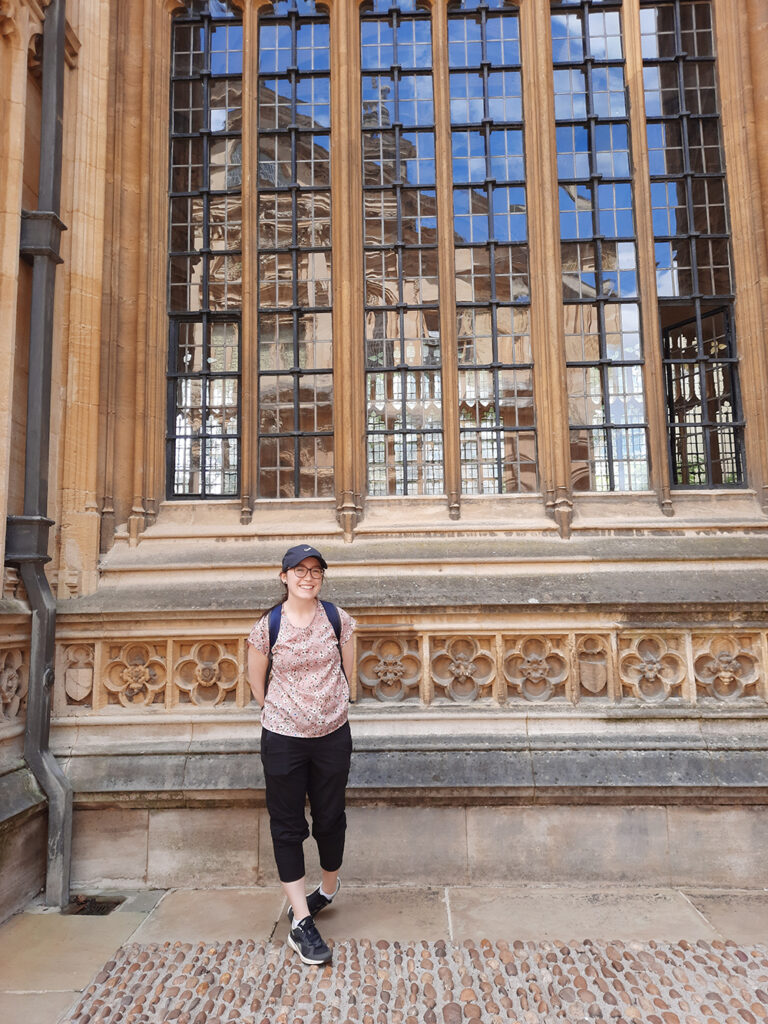 The Divinity School (I think).
We found this wall of beautiful windows after discovering the Sheldonian theatre. It was difficult to get a sense of the convocation-house-scene described in the tour (wherein Elizabeth Anscombe argued against Mr. Truman's degree), but looking through the windows of this building, I could imagine a young Mary Midgley looking up at the ceiling, shivering, while attempting to write her exams.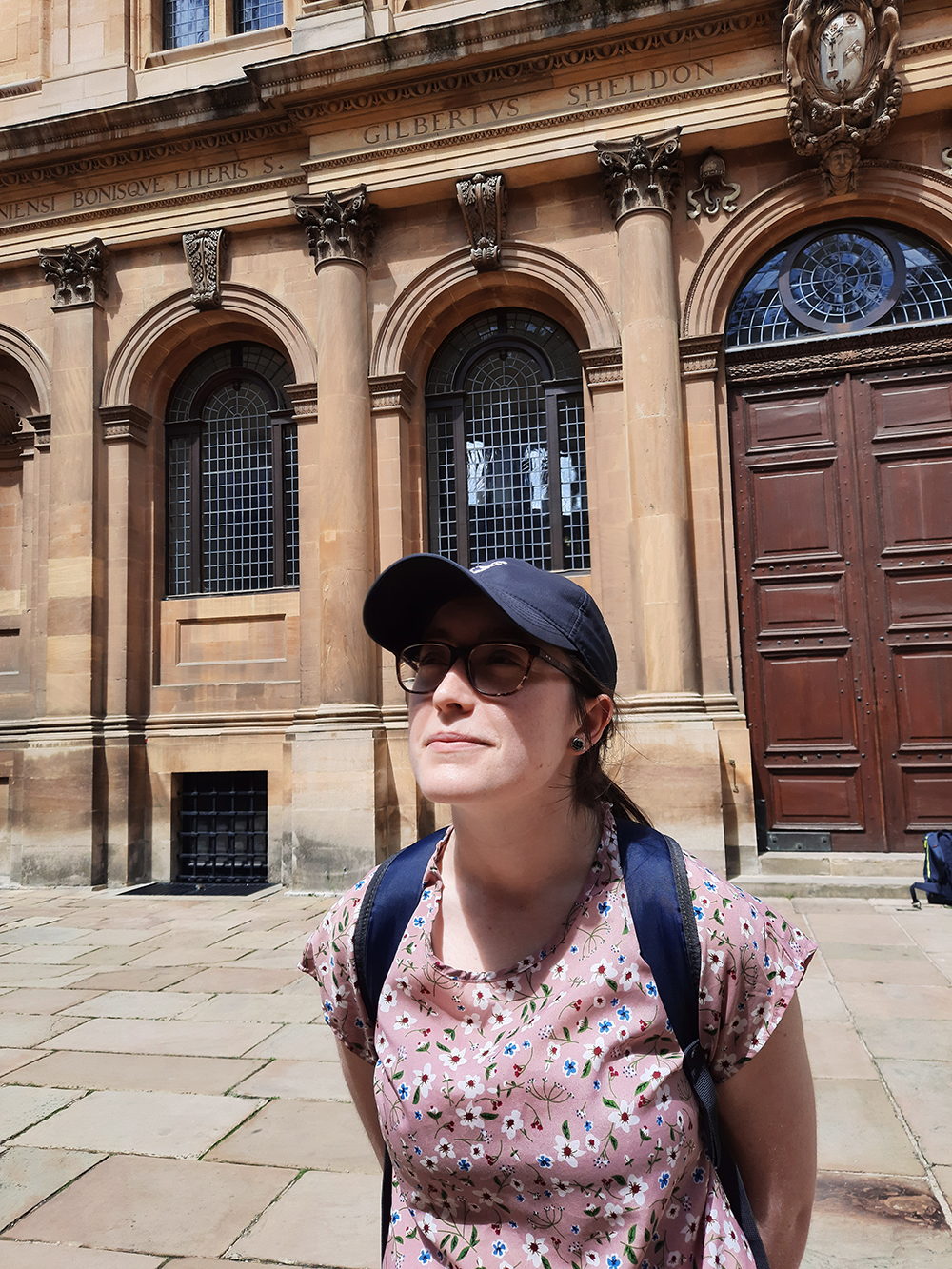 We found our bearings from these lines of the tour: "If you stand facing the Divinity School, with the Sheldonian Theatre behind you…"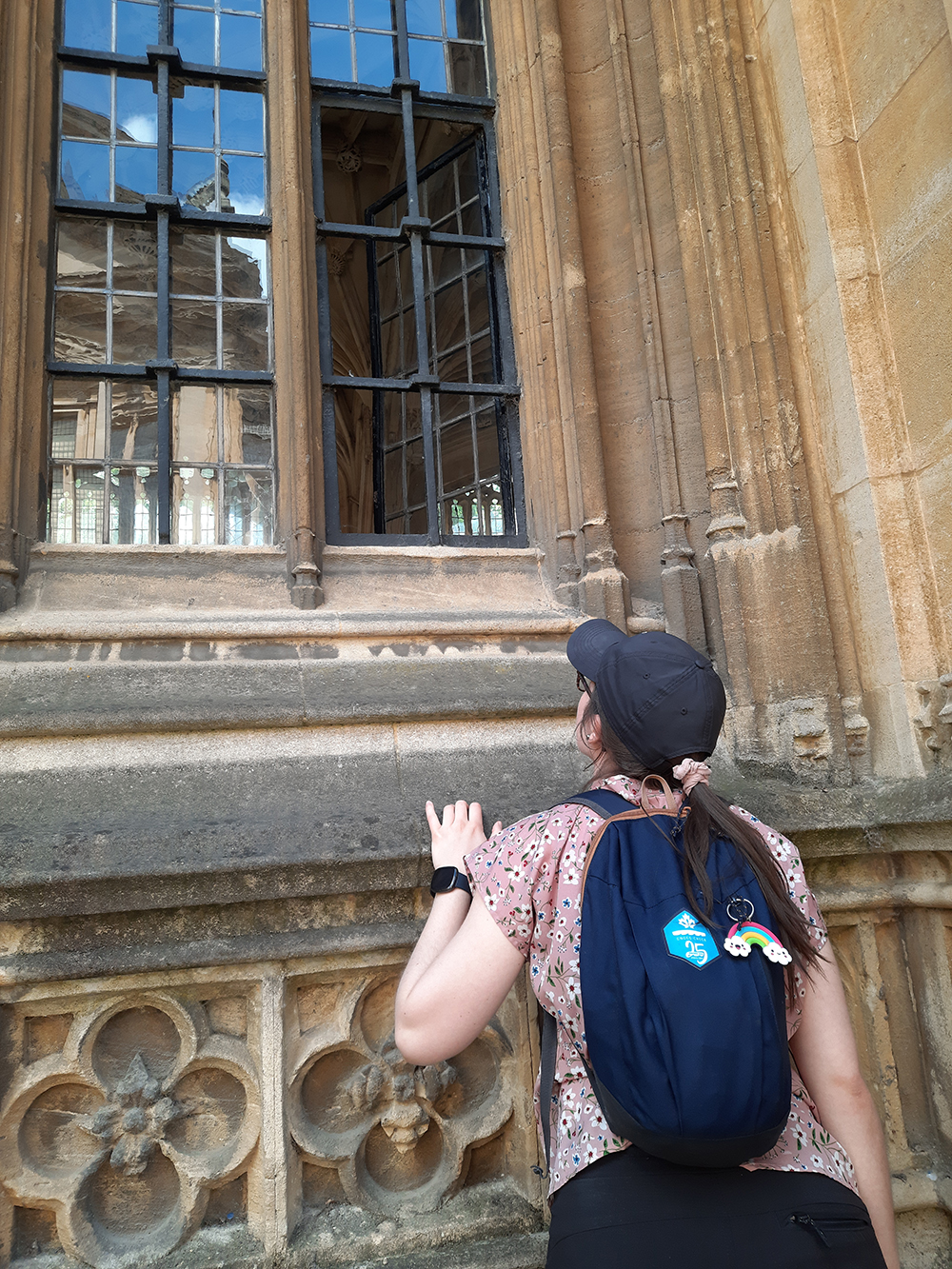 You can pay to go inside the Divinity School. I just tried to peak in the windows. (I didn't see much).
13 King Edward Street, stop B
After the Bodleian, the tour takes you through a busy street, down to an alley-like lane where Iris Murdoch used to reside. The location is close to many shops and cafes. I can imagine that living here, one would feel part of the hustle and bustle of this part of town.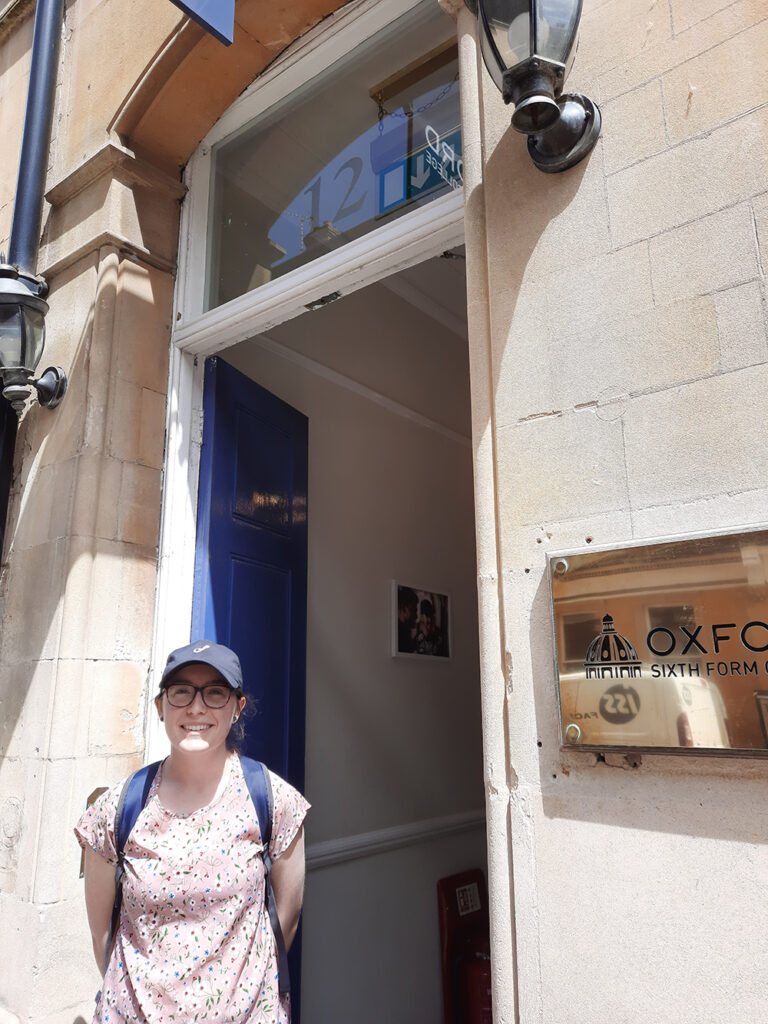 As the tour notes, no. 13 is now incorporated into the Oxford Sixth Form College. The no. 12 is still visible, above me.
3 Cornmarket Street, stop C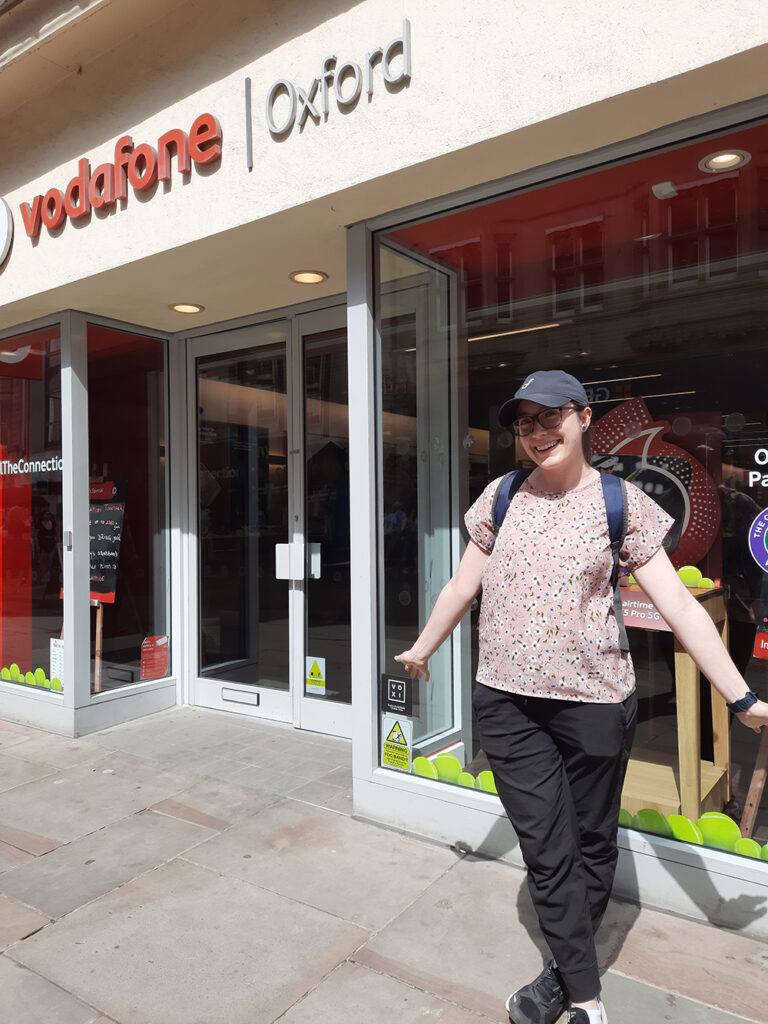 I don't even know what Vodafone is!
Continuing through the busy streets, we tried to avoid running into other tourists and walkers as we searched for the locations of interest on Cornmarket Street. This Vodafone shop used to be a tearoom, and the four friends would meet here to talk philosophy. It is difficult to picture such a scene given the location's current state. However, the continuous movement on the street made the area feel full of life and interesting, ordinary people—a great place for doing philosophy with a concern for how our ideas and theories relate to regular life.
Across the road is another café mentioned in the tour, where Elizabeth Anscombe would ponder various philosophical questions. (I did not get a picture there, the street was too busy.)
17 Broad Street, Oxfam Shop and Collecting Centre, stop D
The East Coast of Canada (the Maritimes) has lots of great thrift stores (charity shops), so I was happy to poke around this store for a few minutes. It's a small space, but I tried to imagine Philippa Foot and the Oxfam committee at the time sitting around a table close to one of these windows, discussing various issues and how to address them, all while looking out on this large street in Oxford.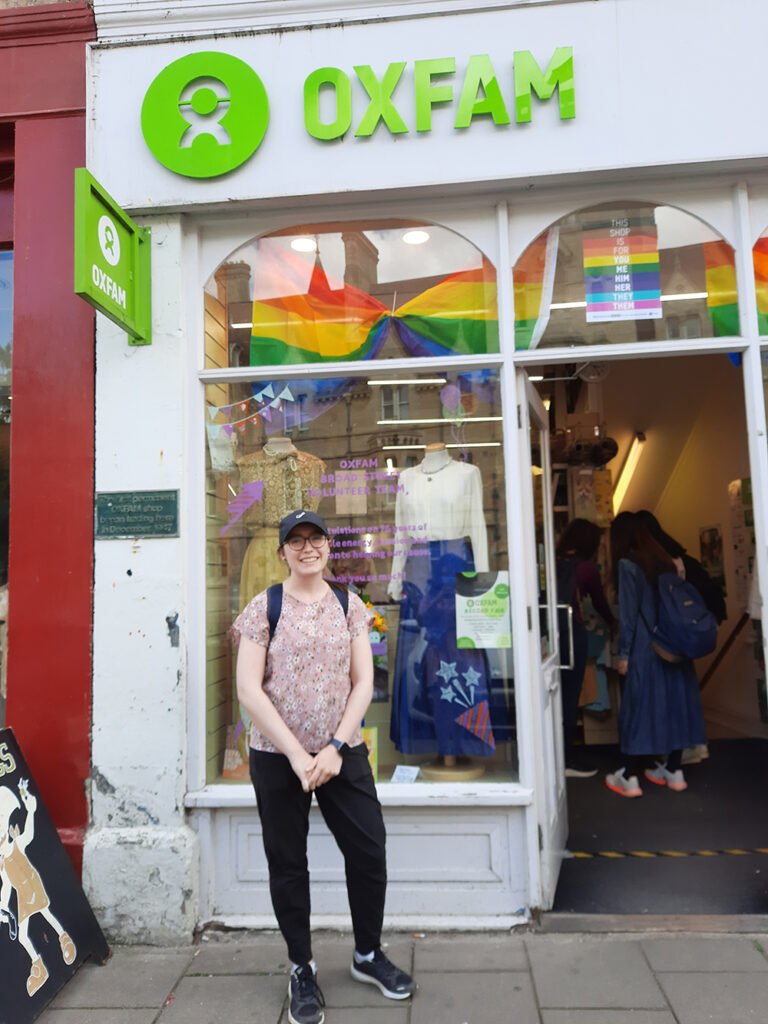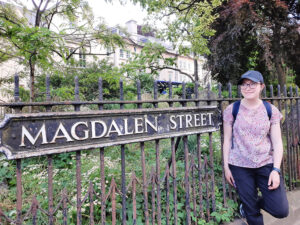 En route to the Ashmolean: don't mistake Magdalen Street East for Magdalen Street!
Ashmolean Museum, stop E
In case you didn't know, this is a real museum. I'm not sure what I was expecting, but for some reason I did not expect this building to be a real museum. I think that taking an oral exam here, as Mary Midgley did, would be quite intimidating; surrounded by old and valuable artifacts, in such grand architecture, would add to my sense of inadequacy or smallness in the grand scheme of academia.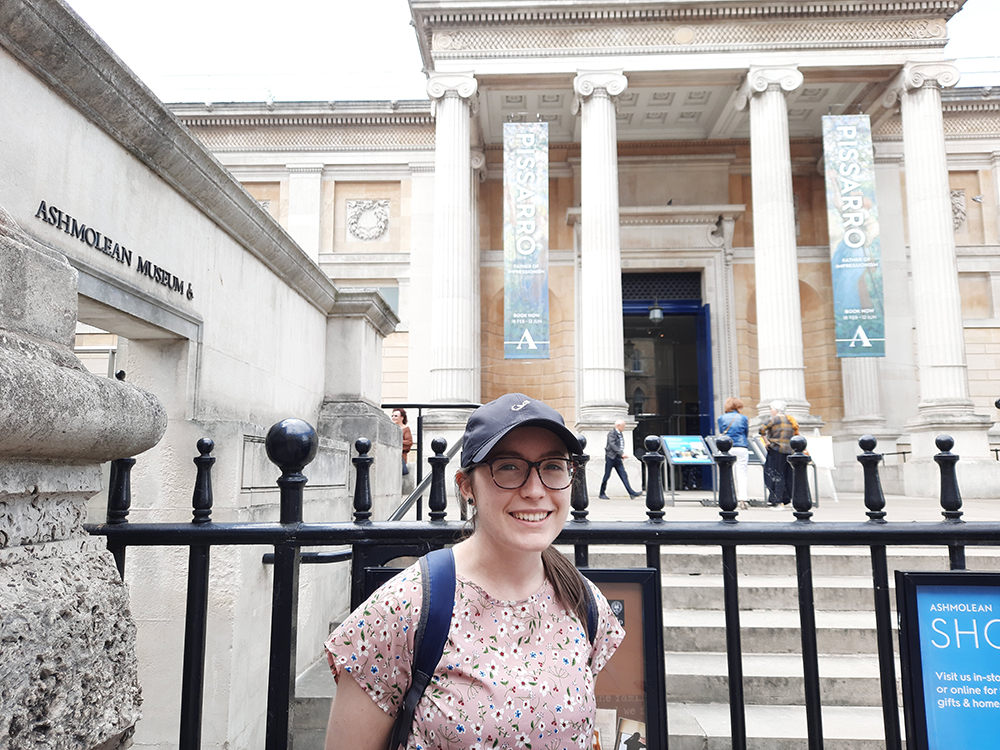 The museum is free to enter. Plan for extra time if you want to poke around!
Blackfriars, stop F
Back on St Giles', we found this little priory tucked away from the busy street. It was quiet and comforting—a welcome feeling after walking the busy streets for the first few stops of the tour!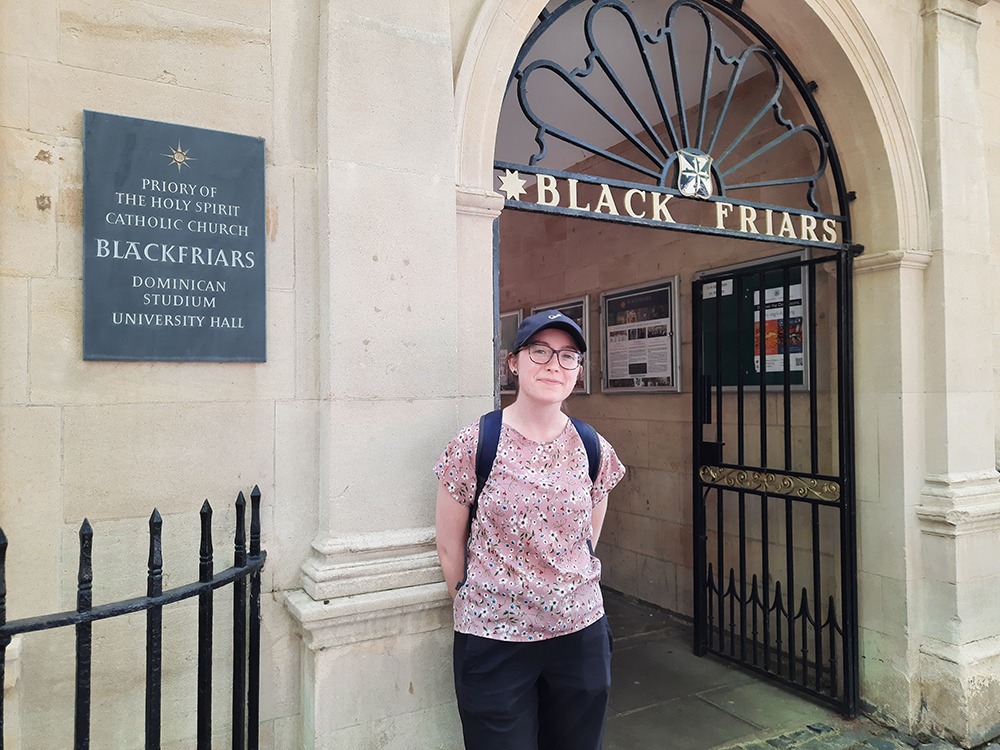 Luckily for us, the gates were open!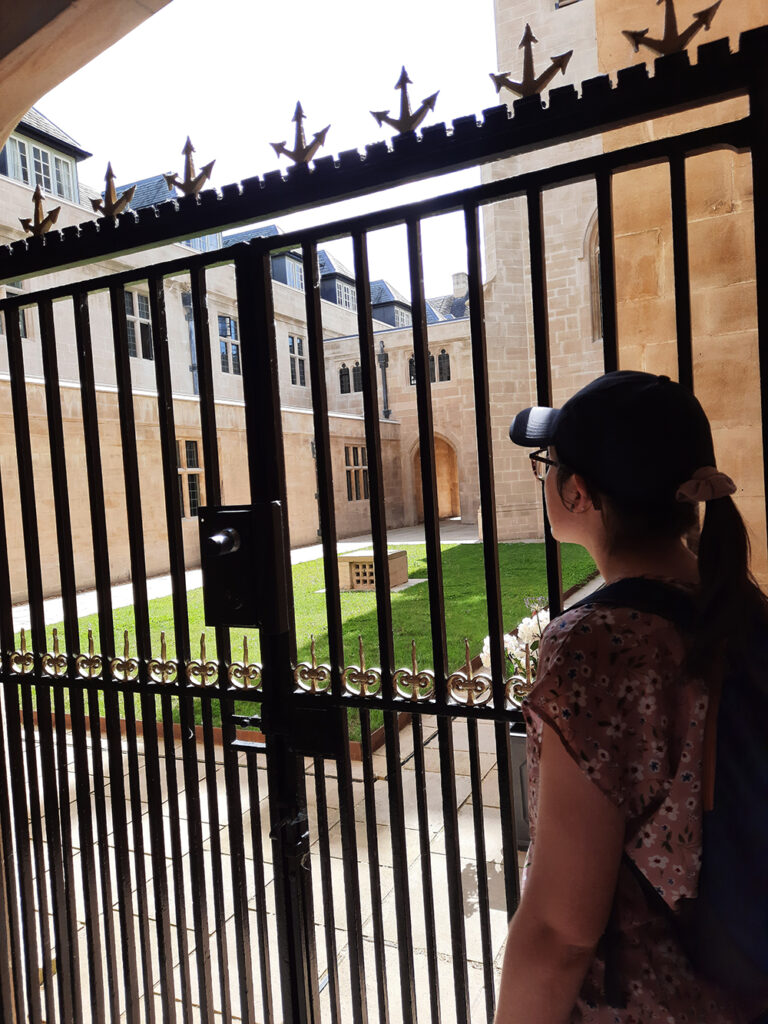 Entering through the black iron gate on the street, we found ourselves in a covered alley leading to a lovely green courtyard. To the right is the large door that opens to the inside gathering area. I remembered the story about Iris Murdoch knocking on the doors of St Aloysius Church upon arriving in Oxford and receiving no answer. When I pretended to knock on the door here, someone exiting the building welcomed us inside to have a look around.
This priory is where Elizabeth Anscombe found theological and philosophical mentors. She received tutorials from Father Victor White — I imagine it would have been a serene space for thinking through problems compared to the busy campus buildings.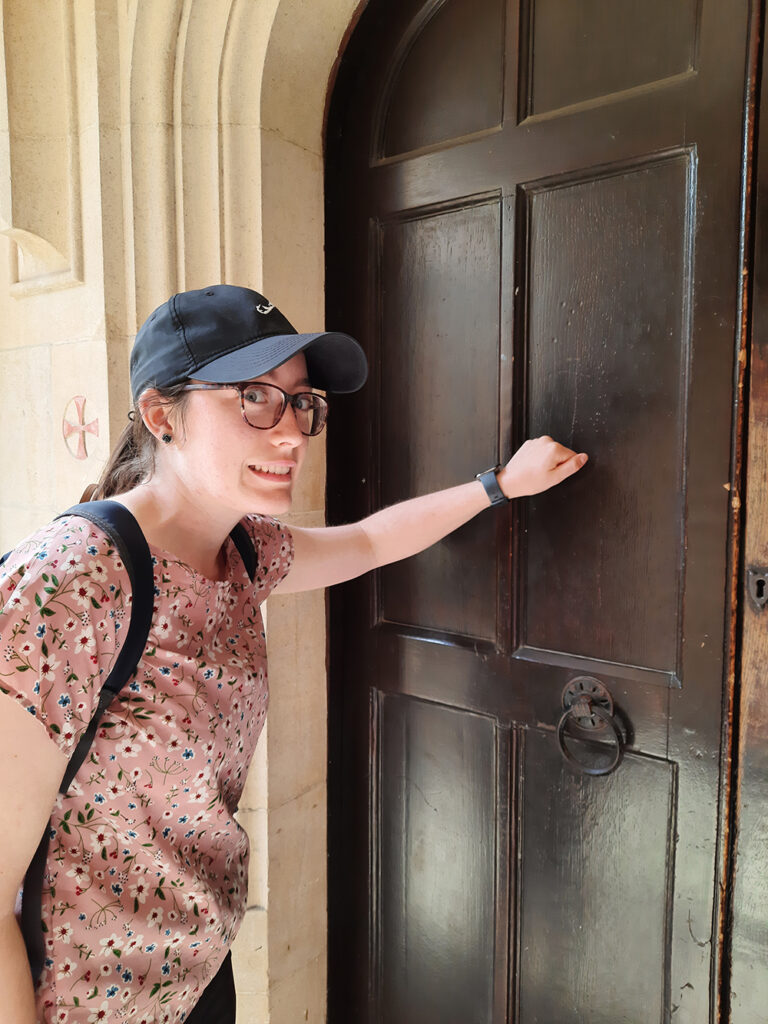 Knocking—I didn't expect a response!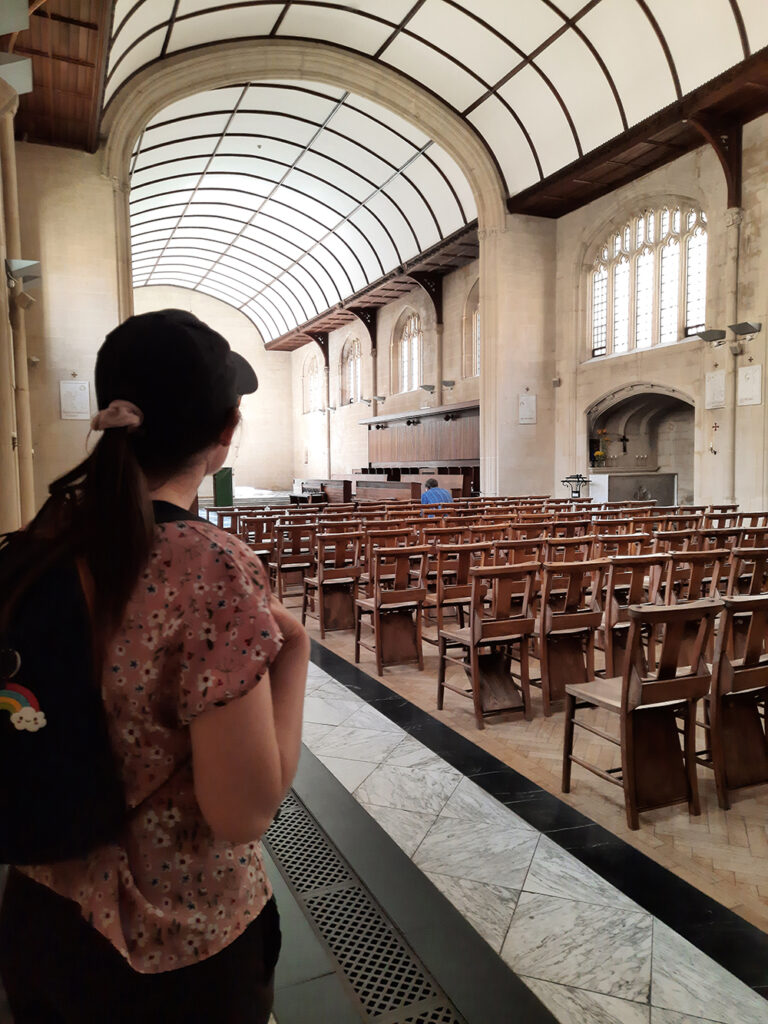 The inside was simple and beautiful. It felt very bright and calm.
27 St John Street, stop G
This was our first stop in what felt like a more residential area. We stepped off the main drag and suddenly locals were eyeing us like we looked out of place. We enjoyed the vibrantly coloured doors along this street as we made our way to no. 27. This spot was home to Elizabeth Anscombe for most of her time in Oxford, along with her family and, for a time, Ludwig Wittgenstein.
There isn't much to see of the house from the street. While here, I tried to imagine the chaos of Elizabeth Anscombe's family, their cat, and the production of her pamphlet against Truman's degree which she sold from this address.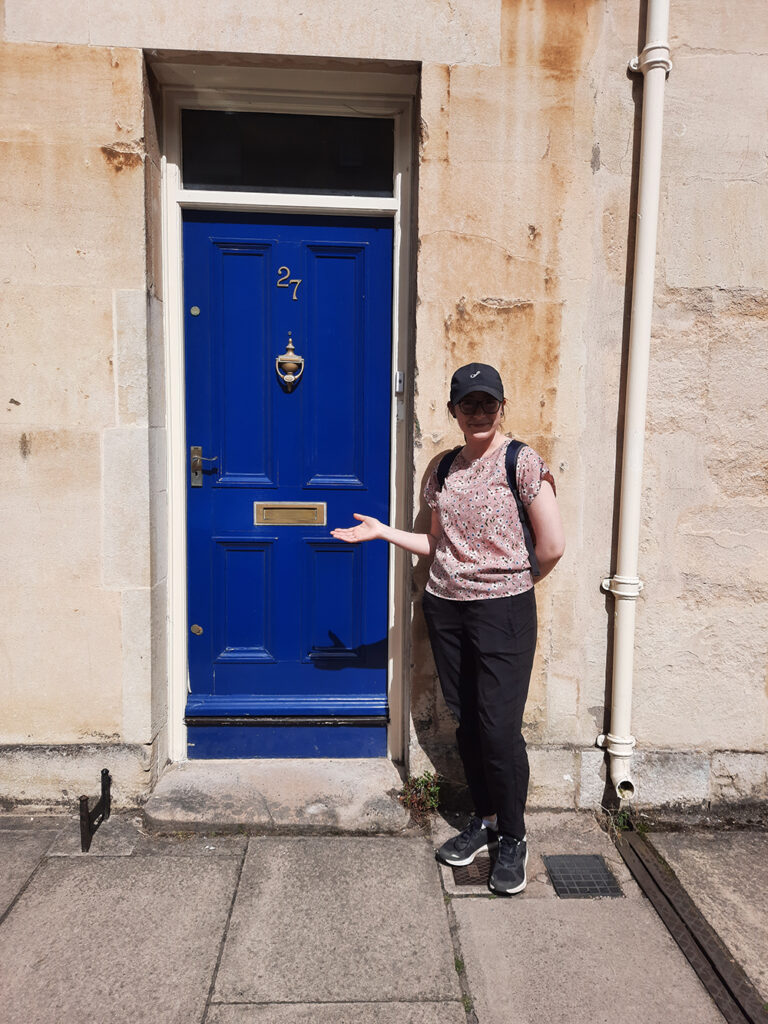 It felt a bit invasive to pose at someone's front door—apologies to any residents at this and the other residential addresses on this tour!
St Aloysius Church, stop H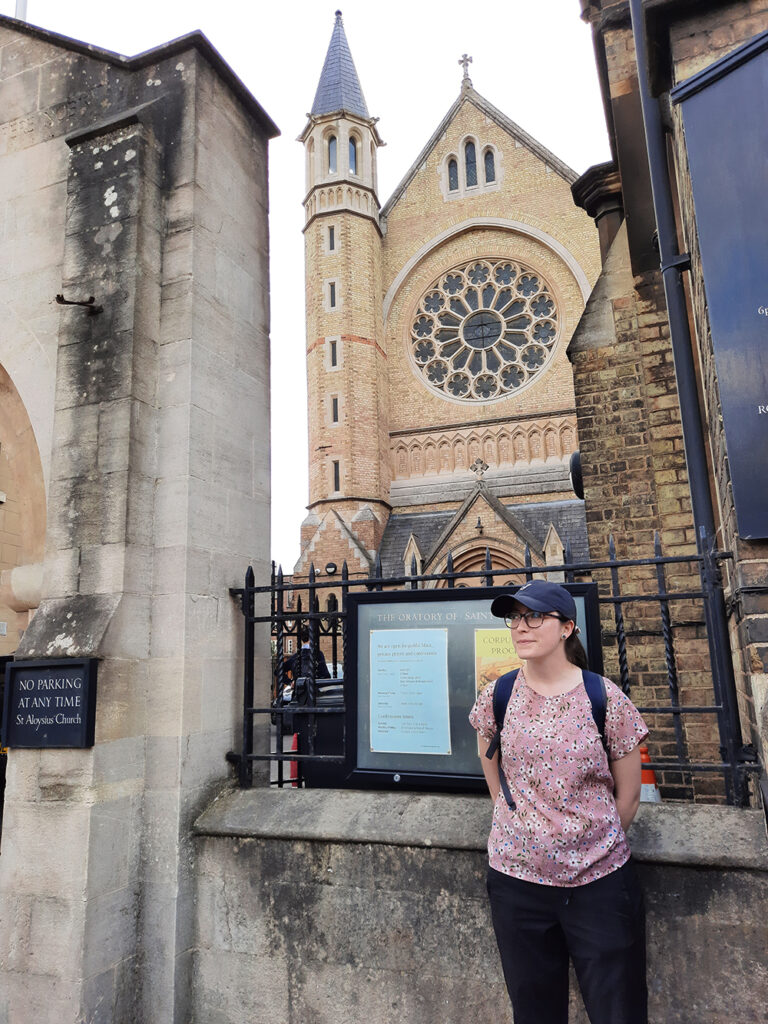 It was difficult to get a picture without any un-suspecting people in the background. This place was busy!
After walking to what felt like another part of town, we arrived at St Aloysius, the church where Iris Murdoch knocked and received no response. Elizabeth Anscombe went here as well as Blackfriars.
Looking from the outside, St Aloysius felt more stately compared to Blackfriars. There was an event of some kind taking place when we walked by, so we didn't attempt to look inside. Since this church is close to some of the colleges of interest in our tour, it makes sense that students, such as Iris Murdoch and Elizabeth Anscombe, would venture here to find a place to worship.
Somerville College, stop I
Just a few steps up the street from St Aloysius is Somerville College. Signs by the entrance told us to keep quiet because students were writing exams. We tried to peek our heads through the inner doorway to look into the courtyard, but visitors were not allowed in.
As you can learn in the tour (or from Metaphysical Animals) Somerville was an important place for all four women. Iris Murdoch, Mary Midgley, and Philippa Foot were all undergrad students of this college. Philippa Foot and Elizabeth Anscombe worked in this college at various levels of research and teaching.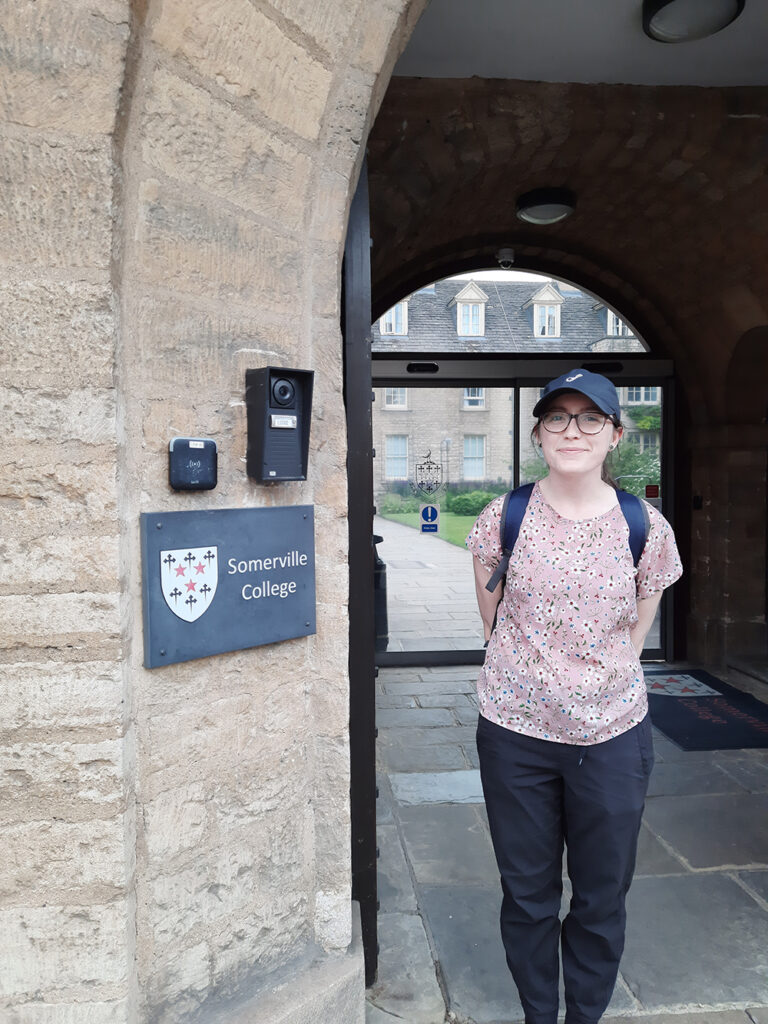 We saw a few fatigued looking students exit the college — got to love exam season!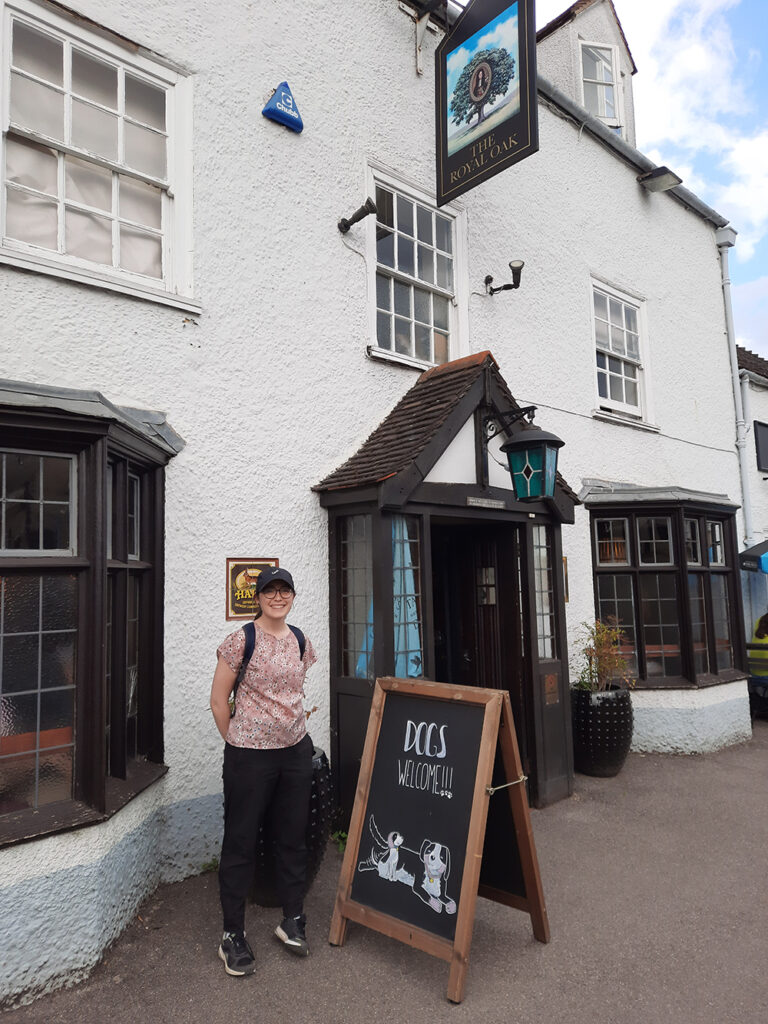 I had a drink similar to Iris Murdoch's first — gin and tonic with lime.
Across the street stands the Royal Oak pub.
We stopped in at the Royal Oak after completing the tour. It was easy to imagine Iris Murdoch and friends coming here as undergraduates since we saw lots of groups of students and faculty sharing drinks to celebrate the end of their exams.
I thought it was appropriate that the pub is dog-friendly since Iris Murdoch loved animals (and pubs).
St Anne's College (then Society), stop K
Along the same street is St Anne's College. I was surprised by the proximity of the stops on this road. This street must have felt like the core of social and academic life for our women as they started out in Oxford as undergrads.
We didn't see much of St Anne's since much of it is tucked away (and we were getting tired at this point of the tour). This is where Iris Murdoch was hired as a philosophy tutor for the university.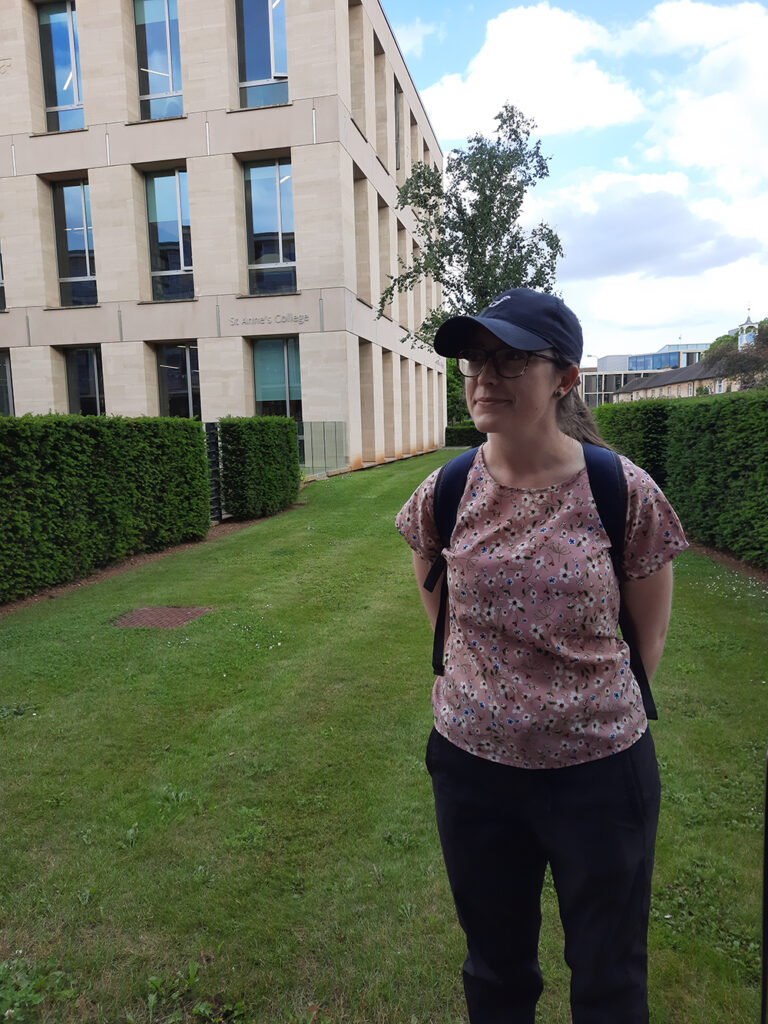 Lots of nice grass and greenery at this college! These buildings felt newer in comparison to the other colleges.
St Hugh's College, stop L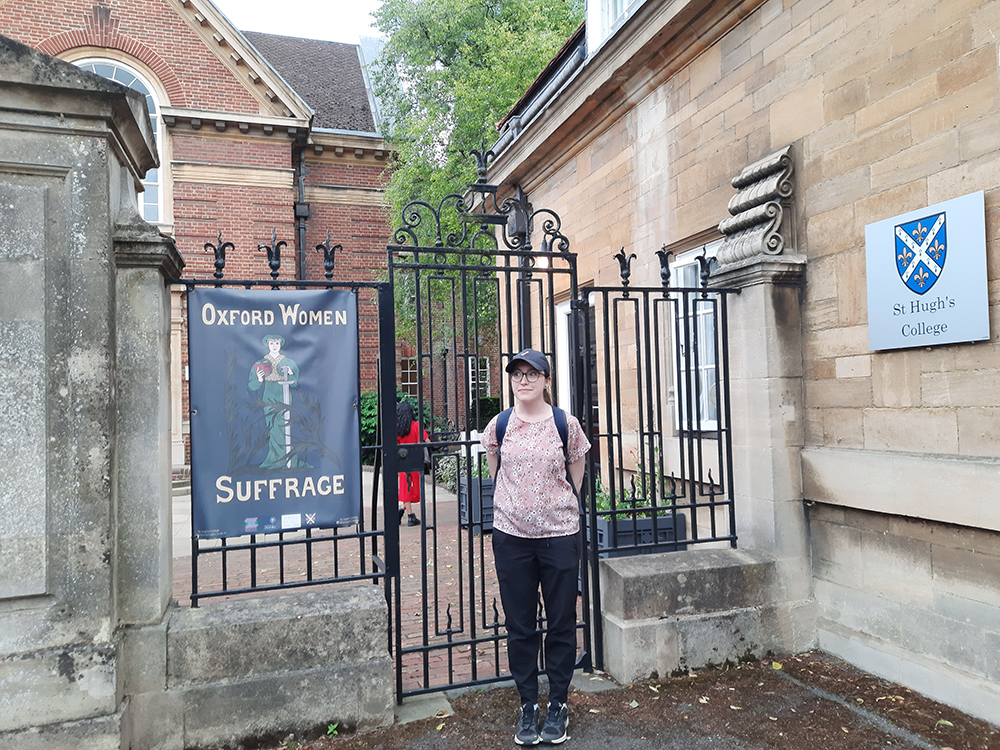 St Hugh's was home to Elizabeth Anscombe as an undergrad student.
St Hugh's felt a bit more tucked away from the other colleges of interest in the tour, and the area felt more residential to me. Again, we didn't venture inside, but it was interesting to see that a poster for women's suffrage was displayed at the entrance, a reminder that women have had to fight for their place and voice in universities (and society at large).
We then made our way to Park Town, an area which, quite honestly, confused me. Park Town is its own little neighbourhood, with crescents and a central garden. Each crescent seems like its own street to me, but the whole thing is called 'Park Town'. This part of the tour likely requires looking at a map if you are not familiar with the area.
No. 16 was home to Philippa and Michael Foot after the war. The four friends met here, and Iris Murdoch stayed here for a bit before moving to 58 Park Town.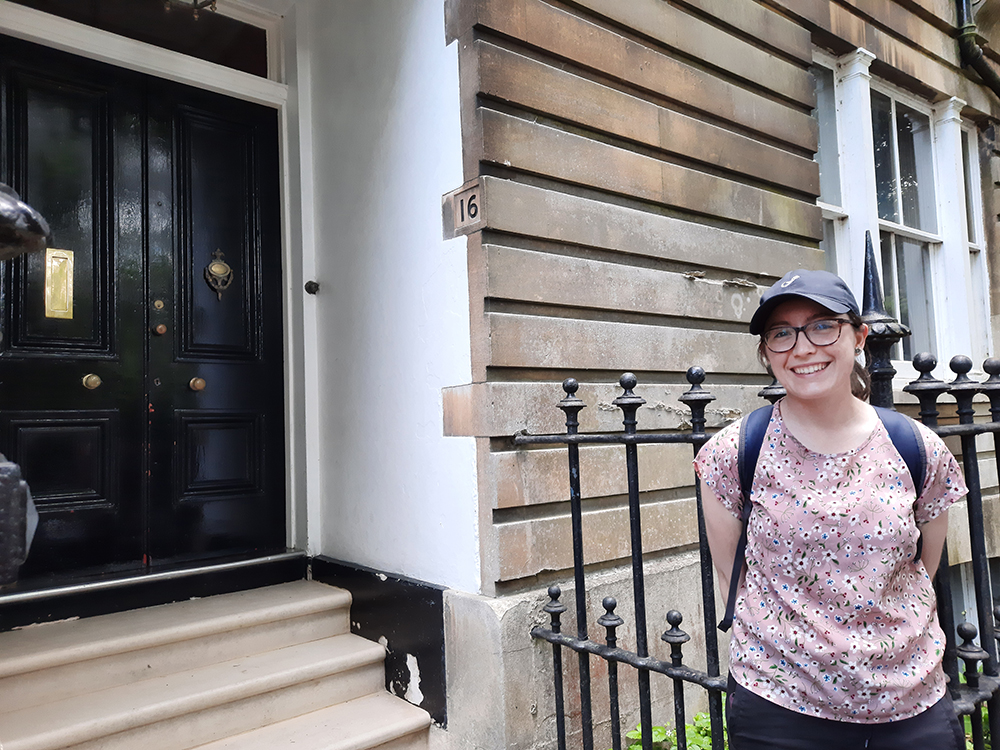 No. 16 Park Town, near the beginning of the neighbourhood crescents.
Earlier, in 1939, Iris Murdoch lived at 43 Park Town with a few other undergraduates.
This spot is a bit hidden. We noticed no. 43 first by the bins outside, then looking around to the front door and noticing the small numbers through the foliage.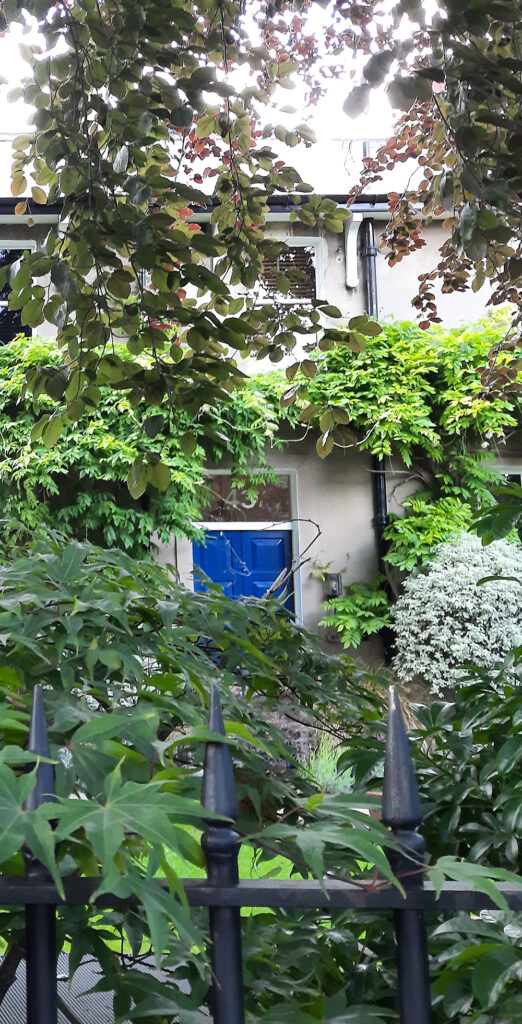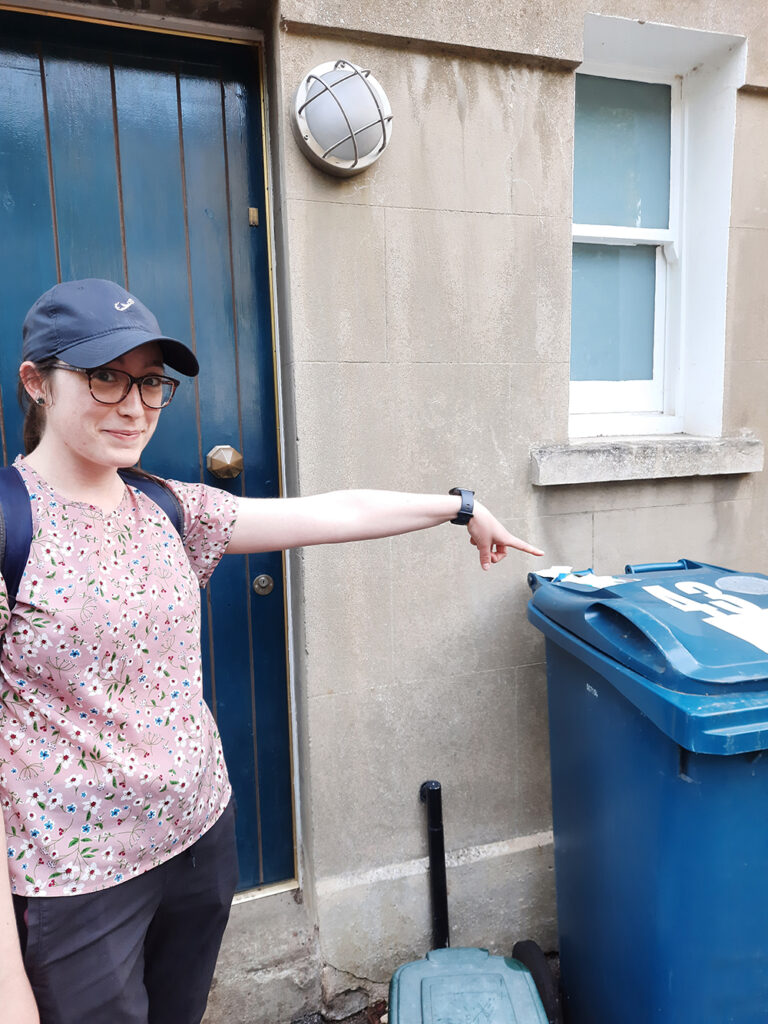 No. 43 Park Town, front and side doors.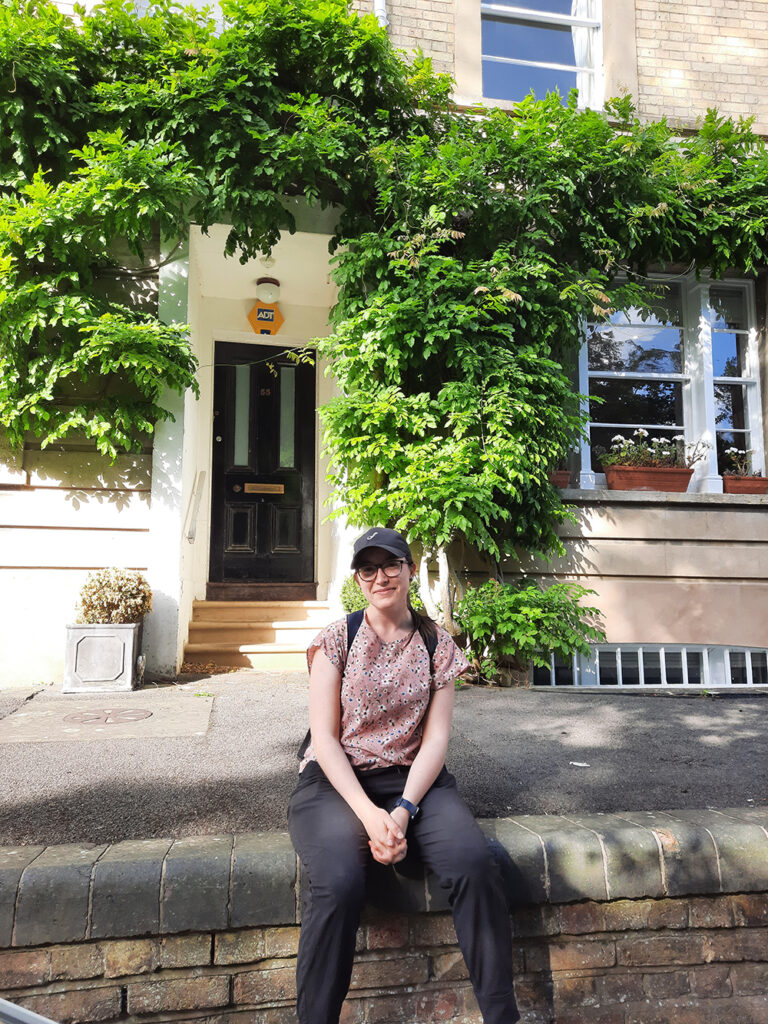 No. 55 (the number is there, trust me).
No. 55, at the back of the crescents, was home to Mary Midgley when she worked for Gilbert Murray after the war.
Close by, no. 58 was home to Iris Murdoch when she moved out from no.16.
It would have been quite easy for any of the three who lived in Park Town at this time to pop in at each other's houses. I would imagine that the proximity would add to their sense of community.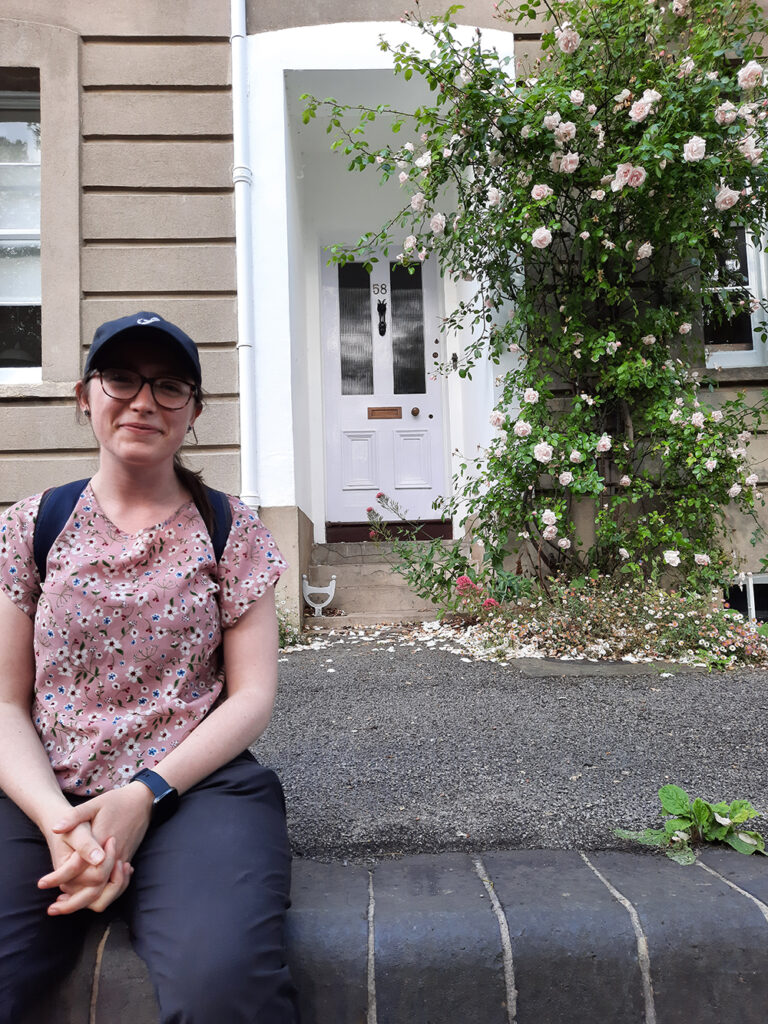 No. 58, on the other side of the Terrace from no. 55.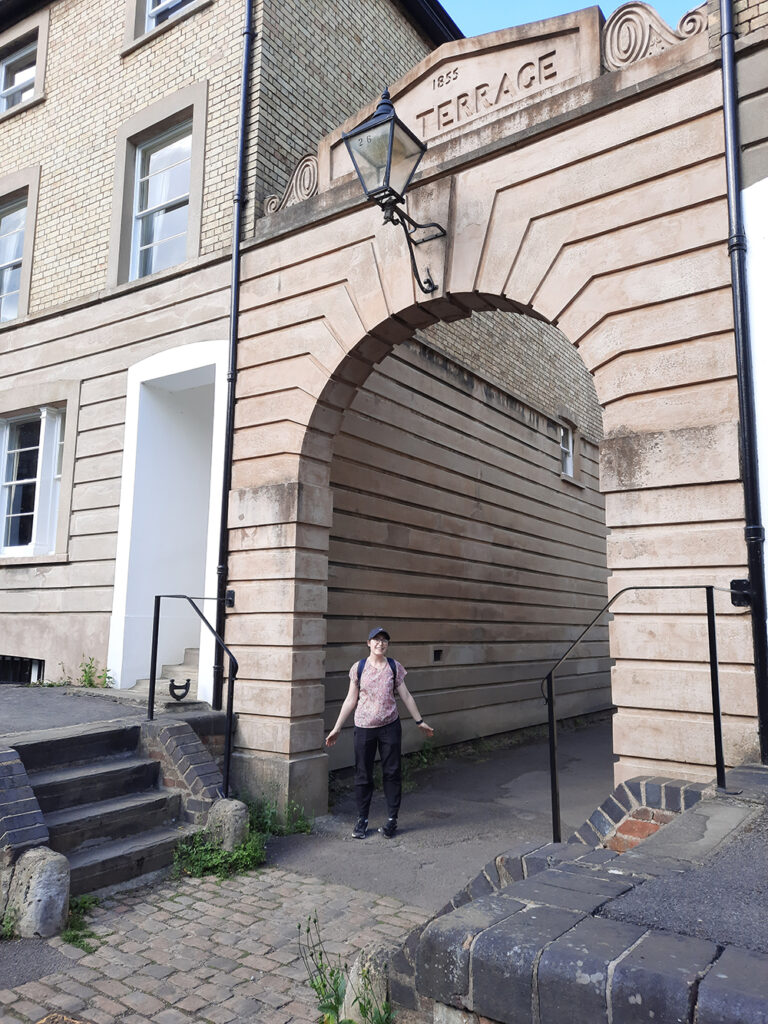 This arch adds to the feeling within Park Town of being in a little village or suburb, set apart from the rest of the town.
If you take the tour, you will have walked by this arch at least once. (We got lost and walked by a few times.) The path through this arch is the way to exit Park Town and continue to the next stop on the tour.
A little walk away from Park Town, we found Bradmore Road. My friend and I walked the length of the street to see if we could find no. 2, but it was difficult to see many of the house numbers. We think this is the right spot—where an ill Philippa Foot stayed in 1942, trying to finish her schoolwork from her bed.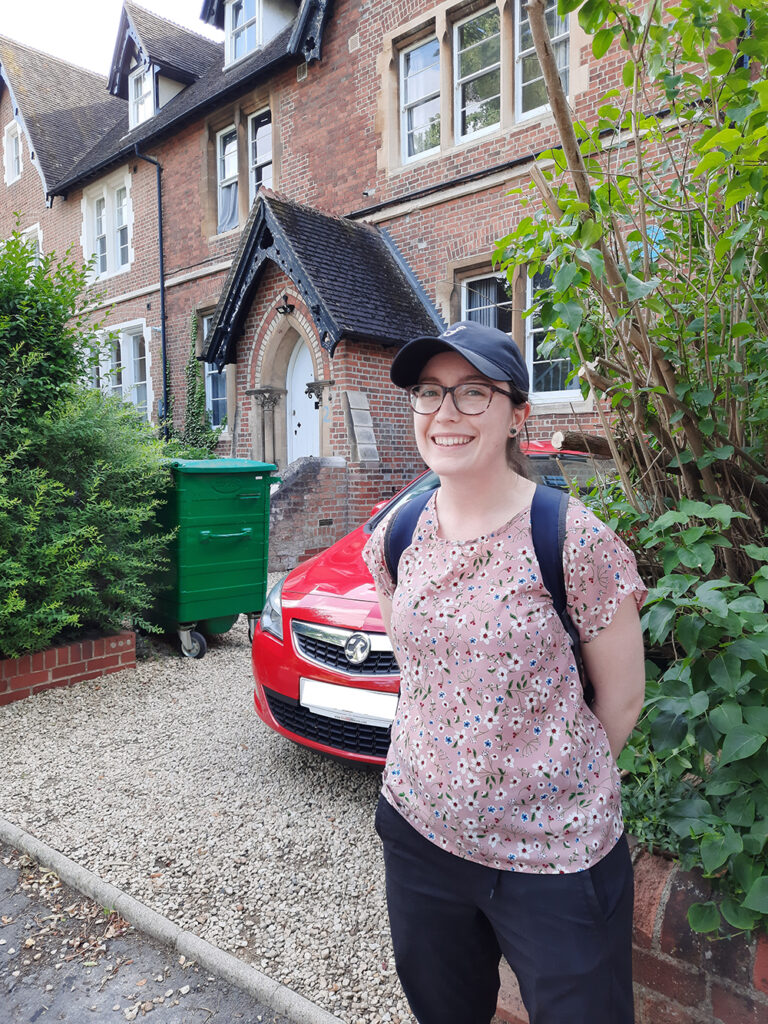 This street is residential, with lots of large houses. It felt set apart from the busy centre of town, similar to St. Hugh's.
After a bit more walking, we found ourselves once again closer to the town centre.
We didn't see signs for Keble College right away, but a sign on the huge wooden doors confirmed that we had indeed made it to the final stop on the tour.
Here, I tried to imagine our women as young undergraduates entering this building for their tutorials with Donald MacKinnon. Then, I imagined coming here as an undergraduate to meet with Philippa Foot and/or Iris Murdoch, who started teaching here in 1954. These walls could tell many interesting stories.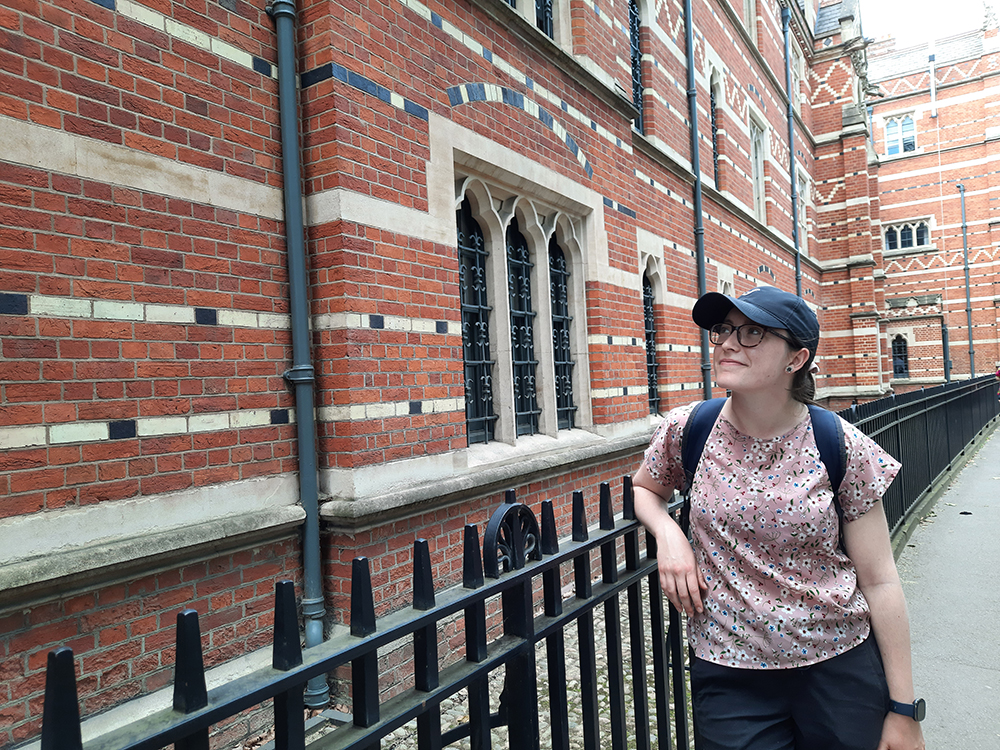 Admiring the "patterned brickwork echoing High Victorian Gothic," the visual clue given in the tour directions.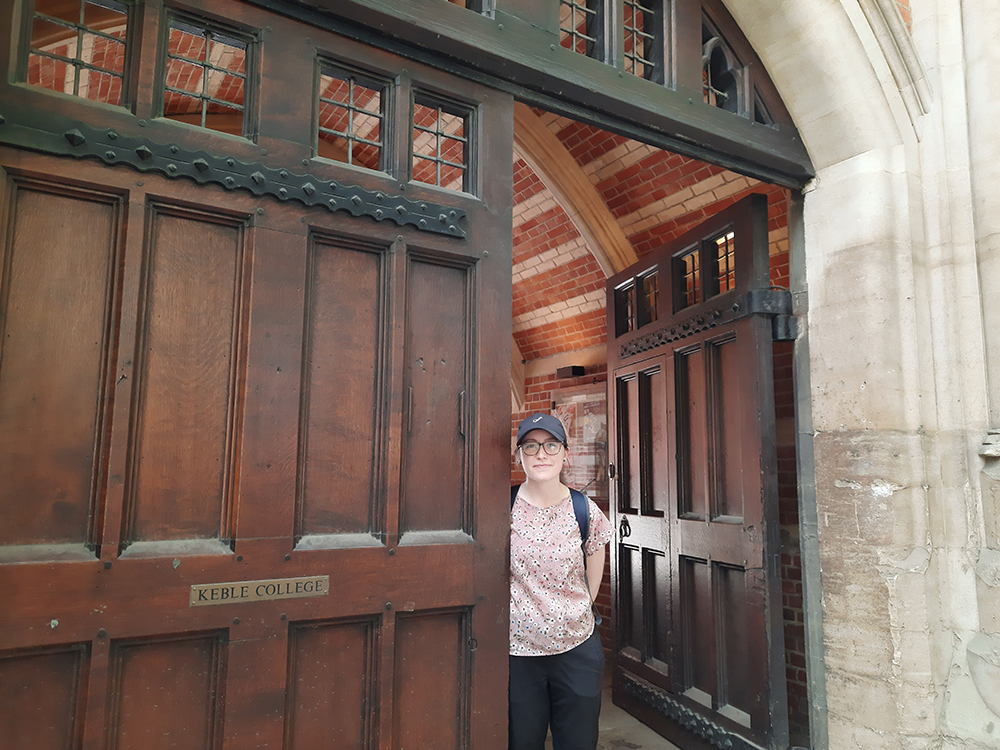 I found the huge doors intimidating.
Bonus stop! Lady Margaret Hall Garden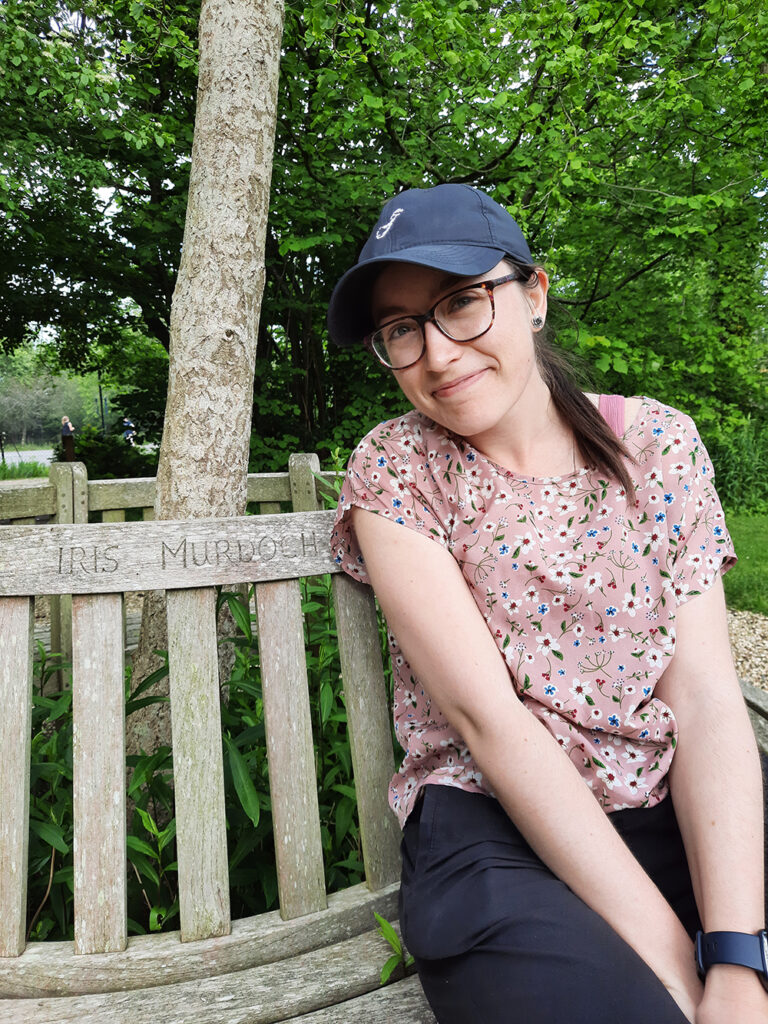 The inscription on the bench reads: "Iris Murdoch novelist and philosopher who with her husband loved and often visited the garden."
If you're feeling adventurous and visiting from far way like me, you might also want to sneak through the gardens at Lady Margaret Hall to see this nice bench dedicated to Iris Murdoch!
On our walk-through of the tour, we went through a nearby park and found this spot between Stop N (2 Bradmore Road) and Stop O (Keble College).
I had heard that this bench was at Lady Margaret Hall, but had to ask for directions at the Hall's reception area. A kind gentleman told us where to go—through a courtyard and behind some buildings to the back of the garden.
The circular bench is easy to spot because there is a tree growing through its middle.
Iris Murdoch lived out her days in Oxford and I can understand why she would come here to be in the garden. It was beautifully kept, but also close to many of the other places mentioned in this tour. I can imagine her wandering through the flowers and thinking about the friends she made in this town. It is a very peaceful place.
A huge thanks to the many people who made this tour possible! I thoroughly enjoyed my introduction to Oxford through the stories of the Quartet. I hope you enjoyed my version of the tour as well!
If you would like to take the tour yourself, you can find the podcast (series 6) in the Curated Resources section of this website, where you can also download the transcript and a map of the tour. Feel free to share about your experience of the tour by tweeting @parenthesis_in or emailing info@womeninparenthesis.co.uk.