The British Society for the History of Philosophy's annual conference will be held online at Durham University on 20 – 23 April 2021. The conference theme is Women in the History of Philosophy. The conference's beautiful poster was designed by Sally Pilkington, who is the creative force behind all our websites. 
On 20th, Rachael Wiseman will be part of a plenary panel on the methodological issues raised in research on women's contribution to philosophy. With Sarah Hutton, Caterina Pello, Ruth Hagengruber and Alison Stone, Rachael will discuss some of the methodological issues which have emerged as the history of women's contribution to philosophy has developed and expanded in recent years. Questions include the implications for the historiography of philosophy and whether research on women's philosophy from different periods demands different methodologies.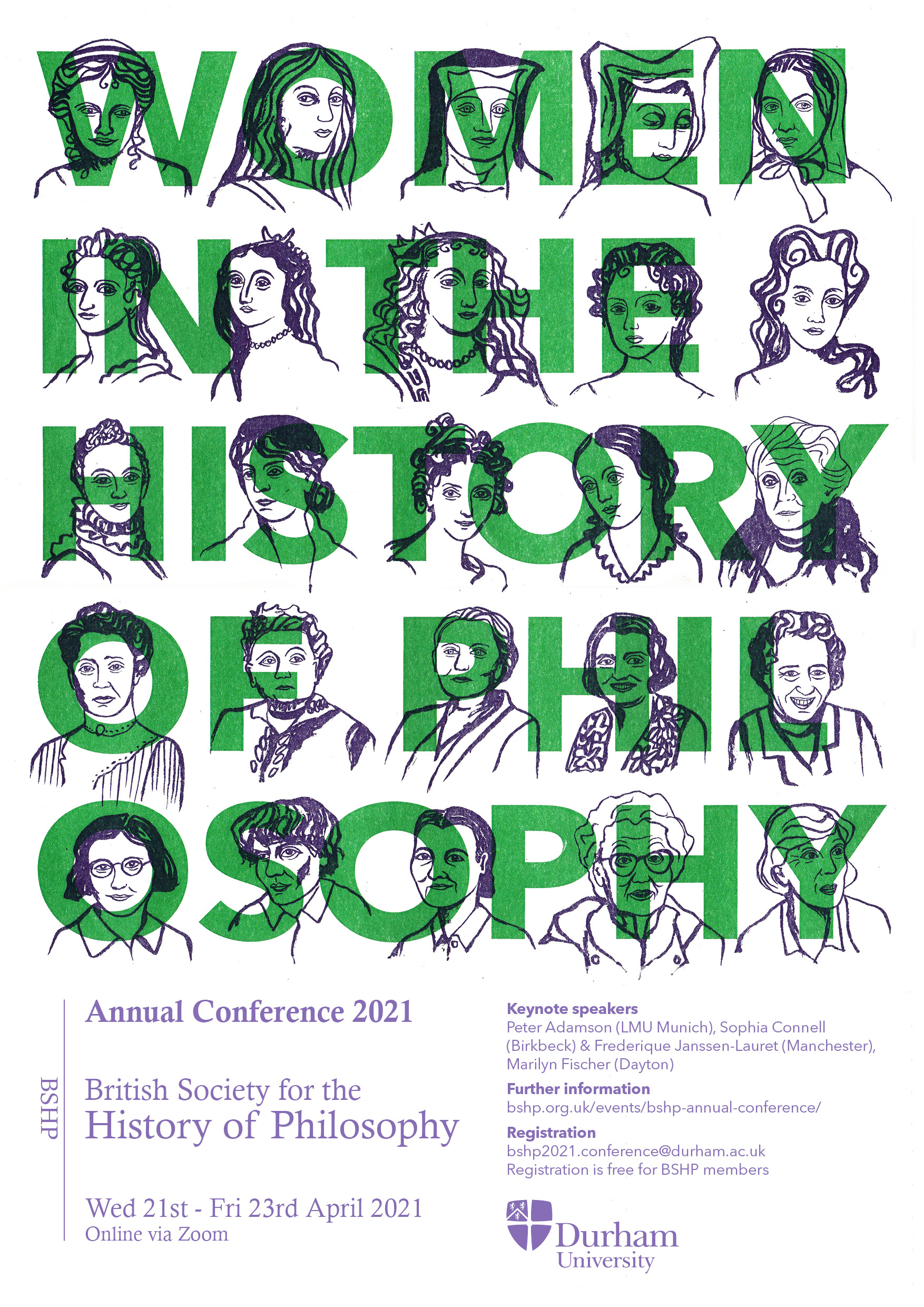 On the 21st, join archivist Andrew Gray and philosopher-in-residence Liz McKinnell with a host of panelists for a whirlwind (virtual) tour of the Mary Midgley Archive at Palace Green Library. Artist Verity Birt (Northumbria University and Baltic Centre for Contemporary Art) will discuss her use of Midgley's work in her practice – how specialization and atomization is death to creativity. Doctoral researcher Amber Donovan (Durham) will consider Midgley's metaphilosophy and how that drives her unconventionally accessible style of philosophy. Ian James Kidd (Nottingham) reflects on Midgley's campaign against the closure of Newcastle Philosophy in the 1980s, with reference to letters in the archive from Strawson and Dummett. We learn how disputes about the nature of philosophy aren't necessarily a sort of narcissistic navel-gazing – they can be tied up with very real professional and political issues. Yiota Vassilopoulou (Liverpool) introduces to Midgley's early unpublished work on Plotinus and considers the scholarly value of studying work that Midgley herself did not return to. Along the way, Gray and McKinnell will provide an overview of the archive.
There are also 5 scheduled talks by members of the Women In Parenthesis team:
David Loner – Alice Ambrose, David Foster Wallace and Philosophical Folk: Wisdom in The Broom of the System, 1979-1987
Ana Barandalla – Murdoch on Freedom, the Individual, and Morality
Sasha Lawson-Frost – Murdoch on Wonder
Lesley Jamieson – How Iris Murdoch Does Moral Philosophy
Eleanor Robson – Delimiting the Ethical Domain: Midgley as a Supplement to Foot